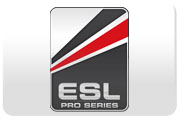 The

Electronic Sports League
have finally announced the details regarding Quake 3 and Trackmania Nations Forever for the ESL Pro Series Season II.
Each game will have a total of £2,500 in prize money, including a £10 win bonus for every match in the League stage
The qualification for both games will be the same; two qualification cups and the ESL Amateur Series (ladder).
Important:
Only UK residents may take part.
For more information and links to sign up, see the
ESL news post.
Edited by xou at 11:24 CDT, 19 March 2009 - 6838 Hits