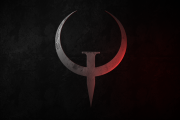 Date : February 29th - March 1st
Place : IEM Expo Hall
When : Starts at 09:00 GMT
Stream (stage) :
https://www.twitch.tv/quake
Stream 2 (off stage) :
https://www.twitch.tv/QuakeChampions2
Stage 2 of the league is coming to an end, and players will once again face off at LAN, and the best of them will have their name on the belt.
The format has changed since Lucca :
- The tournament is now a double elim bracket (everything bo3, except WB SF / WB F / LB F which are bo5, and the grand final which is bo7 with a 1 map advantage to the player coming from the winner bracket)
- Instead of 4 players getting 2 BYE rounds based on rankings, it's now 8 players who get 1 BYE round (and they also chose their first round opponent).
Once again, 2 challengers from each league will have their shot at entering the tournament and the league, through a single elimination match against an opponent from the bottom two of their respective league. But this time, the challenger matches are counted as a round 1 in the bracket instead of having their own round.
The challengers are :

bukster
,

Spart1e
,

sib
and

ZenAku
.
And from the league...
Top 1-8 :

rapha
,

k1llsen
,

Raisy
,

DaHanG
,

vengeurR
,

Cooller
,

toxjq
,

psygib
Not seeded :

cYpheR
,

baSe
,

cha1n
,

nosfa
,

Av3k
,

dramiS
,

dooi
,

Effortless
Facing the challengers :
Xron
,

cnz
,

whaz
,

GNiK
Useful links :
-
Official News
-
Liquipedia page for the LAN
(with brackets and full results)
-
Liquipedia page for the Stage 2
Edited by diegowar at 18:44 GMT, 1 March 2020 - 38234 Hits