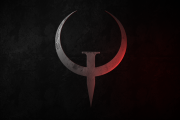 You've probably heard about that LG damage nonsense:
"6! no 7! no 6! no 7! no 6! no 7! no 6! no 7! no 6! no 7!"
Tearing apart a delightful community.
I suggested 6.5dmg so everyone would be happy
, but that seems to be too much work for id software.
Last night I had a dream.
And I have the answer:
QUAKE CHEMPIONS ELEMENTAL DLC WITH VARIABLE RESISTANCE TO ELECTRICITY ETC
Yes, this is gonna happen.
You know it.
Tim knows it (he will invent this soon).
"Clawz hits like a truck with LG? np I'll activate my thunder shield which reduces LG damage to 3"
You'll just have to keep an eye on your mana level, and refill it with Qmana coins.
thx Tim
Mon
Tue
Wed
Thu
Fri
Sat
Sun
1
2
3
4
5
6
7
8
9
10
11
12
13
14
15
16
17
18
19
20
21
22
23
24
25
26
27
28
29
30
Edited by nsx0r at 07:41 BST, 7 September 2017 - 19481 Hits