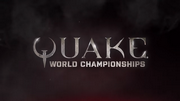 After an intense first day, the
Quake World Championship
second day promises even more exciting fast paced action at the
Quakecon 2017
. Sacrifice group stages are over and there are only 4 teams remaining going into the semifinals, the match ups are:

NOTOFAST
vs

Liquid
and

2z
vs

The defendants
. All-super-star team NOTOFAST seems to be doing great at the moment and is pretty much demolishing all opposition they encounter, so could the americans make an upset? they are pretty much all against the odds, that's for sure. Meanwhile In the second match we got 2z with an strong performance so far in the tournament that seems to give them the upperhand over The Defendants, however, we'll prolly see the later ones put a hell of a fight to get an opportunity to get into the grand finals.
Duel action has pretty much just getting started with only one round taking place in the first day of
QuakeCon
, nevertheless, we already witnessed incredible action and some pretty big upsets regarding the first round of the group stages of the
Quake World Championship
.The most crucial ones being:

Raisy
(a pretty much non-quaker and mostly a CS player) demolishing

Tox
on LAN, just as in the Regionals, american new blood dueller

dooi
beating old QL dark horse

strenx
in a 2-0 fashion, the day by day stronger swedish player

fazz
beating last year Quakecon's runner up

evil
, and of course, the old legend and russian superstar

Anton Singov
, better known as
Cooller
, completely destroying

rapha
in a both shocking and amazing 2-0 (6-0) performance.
Stay tuned for more action in Friday 25th at
09:00 CDT
12:00 CDT
Brackets:
Sacrifice Bracket
,
Duel Bracket
Live streams:

Quakechampions
(main stream),

Quakechampions 2
(2nd stream),

Russian Stream
,

Quakecon
,

Bethesda
Links:
Quakecon Home
,
Quakecon 2017 guidebook
,
Toornament
,
Team Liquid Wiki
,

@QuakeCon
VODS:

Quake Champions PRO
,

Poloz QuakeTV
Edited by Asuka_ at 21:14 CDT, 25 August 2017 - 227770 Hits