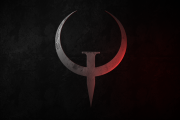 Quake Champions will be open for everyone for large scale tech testing, from May 12 through May 21 - 9 days of 'open beta' available to all players who weren't lucky enough to grab a key. The servers will run throughout the whole semi-open beta period 24/7 with all champions unlocked.
Another big news is the announcement of the Sacrifice gametype. It appears that it will function similar to duel mechanics, a round based elimination combat - pick your champions and battle it out in the arena.
During the upcoming Tech Test, you'll also be able to try out an all-new 4v4, team-based competitive mode: Sacrifice. Pick your teams and Champions wisely and work together to dominate the Arena in this new mode.
Next wave of beta will also be dropping the NDA.
This tech test will have no NDA, so expect plenty of impressions and discussion through the next week.
NDA expires on May 12th according to the official twitter.

Source:
Official website
Links:
Beta Signup/Official website
,

@QuakeChampions
,

Facebook
Edited by Badb0y at 15:53 CDT, 8 May 2017 - 59708 Hits