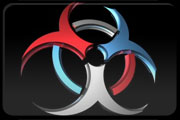 Hi everyone, I'm

pan1c
and some of you might know me from

CPMA
. Over the past year me and a friend have been working on a website where anyone can start and maintain their own tournaments or ladders in any game they like, and we're ready to launch! To celebrate this, on 31. March 2017 we'll be opening a Quake 3 CPMA ladder for

Europe
and



North America
with a 100 USD cash prize, and we might be interested in accepting donations for a larger pool.
Our website currently allows you to create and maintain your own ladders in whatever game you please, and if we don't offer the game at this moment we would be happy to add it. As a Quake player, I want to see this community live on, and with Quake Champions on the horizon I wanted to do something cool. So I'll be hosting this duel ladder and putting up the cash for the prize myself. Quake has been my home for many years, through many ups and downs, and I'd like to do whatever I can to see any iteration of it live on. So, without further ado, welcome to gLeagues.
We hope you enjoy yourselves so lets keep this wonderful game, and this even better community thriving. -- Love pan1c.
Links
gleagues.com/Registration
,
Discord Server
,

Steam Group
Edited by Badb0y at 18:26 CDT, 28 March 2017 - 8447 Hits