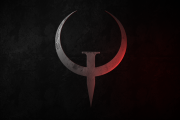 So I lived and worked in China for the last three and a half years and I am currently packing my bags as I will return home to Germany tomorrow. I will need to find a new job, new apartment and build up a nest for my family (wife, two year old boy and who knows what happens to the bloody Chinese parents in law...) who will join me later at around half a year. It feels strange to leave this place which has become a second home for me.
So why write about this on ESR?! This page has been part of my (almost) daily routine for 15 years. From a gaming point of view I have been most of the time inactive. I played Q3 from 1999 to 2003. Switched to QW and played from 2003 till 2008 (but did not put as much hours into it as Q3) and had a short period with QL (few months during open/closed beta). I sometimes followed a tournament when I was in the mood, but mostly I prefer to play myself then watch other people play.
Since 2009 I started to get serious into single player gaming again and said goodbye to arena shooters. Many genres saw a comeback through kickstarter or through indie-gaming. Not so good old arena shooters. When I heard Epic is doing a new UT, I felt relieved, even so I never actually played any UT game (movement sucks…). Overwatch, Battleborn, Lawbreakers and other hero shooters are gaining huge playerbases. These games are not classic arena shooters, but in my opinion a big step up over COD and other mp FPS.
From tomorrow evening I will be back in Germany with a lightning fast internet connection again which is not hindered by the great firewall. But until yesterday I actually did not know on what to look forward to for multiplayer gaming. Sure Quake Champions might suck in the end, but it gives me some hope regarding my favorite genre: Arena shooters.
Exciting times ahead, from a personal and gaming perspective. I like.
Mon
Tue
Wed
Thu
Fri
Sat
Sun
1
2
3
4
5
6
7
8
9
10
11
12
13
14
15
16
17
18
19
20
21
22
23
24
25
26
27
28
29
30
4320 Hits