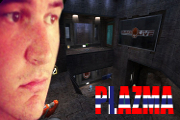 Here we go again with an interview of

Kenneth "
plazma
" Aulie (which was done some time ago, but we were unable to release it sooner due to some busy schedule), the popular Norwegian QuakeLive player and movie-maker, unfortunately eliminated in the first group stage of the 125 FPS October league.
In this interview, we asked plazma about his settings, his carreer, his plans as a player, what he thinks about other modes, etc. As usual, you'll find a link to plazma's config (which is from DHW13).
Here is an extract of the interview:
Esportactu: How would you qualify your gamestyle ? Has it been influenced by other Quake Live players ?

plazma: Stupid, rash, railonly and idiotic. I think it was fazz who said that I could be a really good player, but I have adhd and downssyndrome (It means I am not calm, and I dont think enough. Plus that I'm not very smart. I'm dumb, in fact. :p). I'm not very clever? As far as influences, I don't know. I can't copy what Cypher, rapha and those guys do, but they are fantastic to watch [...].

More on esportactu
We'll do more interview in the future if players are okay with it. Play more Quake !
Previous Interviews:

Winz
,

Guismo12 (2014)
,

ddk
,

Latrommi
,

FraZe
,

Sev3n
,

Baksteen
,

dem0n
,

Guismo12 (2012)
Source
:
esportactu.fr
Edited by Badb0y at 12:05 CDT, 22 October 2014 - 25399 Hits