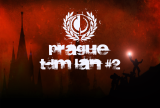 Scheduled: 03:00 CDT, 19 September 2014 to 13:00 CDT, 21 September 2014
Schedule:
Passed
Welcome to the first update on Prague TDM LAN #2.
Z Live
is keen to run the stream again this year, but we are looking for people who would be able to volunteer themselves as casters and people who can run the stream along with

zoot.
With about 5 weeks before the signup deadline, there is really low number of teams signed up. This way, I would like to ask people, who know that they will attend, to let me know and register their team.
If there is anyone interested in any kind of help or sponsoring, please let me know. If you have any questions, feel free to ask in the comments or #lan-prague @ Quakenet. If you can't find a team, but you would still like to attend, there's a
list of players
without a team. Contact me if you want to be added.
Links:

Previous post
,
District cafe website
,

#lan-prague
Edited by Lam at 11:15 CDT, 29 July 2014 - 81238 Hits