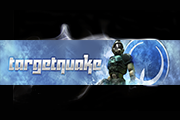 This is a North American Event, designed to help players to grow and play with an even playing field. We want players to be able to develop skills by playing other players who can challenge them mentally in the gametype of duel in Quake Live. There will be no prizes, no streams, no playoffs, just matches that is it for now. We would love to see this grow into a regular league that can run multiple times in a year. So tell your friends to sign up and play. There will be no streams of any kind its designed to strictly help players to meet and play with players in their own skill level. Each League we run will have a separate sign up period and all players will have their elo reassessed when the next league begins. This gives them a chance to further develop their skills in between league events as well as meet new players as you keep getting better.
Sign ups close: 23:00 CST, 15 February 2014
Group Play Begins: 11:00 CST, 16 February 2014
Group Play Ends: 00:00 CDT, 16 April 2014
All players who sign up will be grouped according to their elo from QLRanks.com, on Feb. 15th.
Event Info:
Duel League - Sign up
here
Links:

Targetquake Productions
,

#Targetquake
,

@TargetFPS
,

@Targetquake
Edited by easytarget at 13:24 CST, 16 February 2014 - 17028 Hits