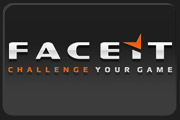 With QuakeCon 2013 coming closer and closer,
FACEIT
will warm you up with some Clan Arena 3 versus 3 action! Tonight the final team for our Finale on Saturday 27 July will be determined.
In yesterday's Road to QuakeCon Clan Arena cup you could see dem0n, gohann and zsx taking the win under the noses of f1sted with a strong performance, making them the third team to qualify.
The final team will be decided tonight. Ash and winz have selected their teams. The Russian is joined by none other than Cypher, and a yet to be determined player. Winz has selected his French compatriots Guismo and fishbone.
The final two teams are faces with jwzr, ph and visser, and nat with baran3k, b0rky and pixion.
Commentary will be provided live this Friday at 13:00 CDT on

FACEIT TV, brought to you by

Daniel "
ddk
" Kapadia and

Bruno "
ins
" Pereira.
Stream:

FACEIT TV
Links:
Post on FACEIT
,

#FACEIT
,

FACEITCommunity
,

@FACEIT
,

FACEITcom
Edited by wn at 23:15 CDT, 26 July 2013 - 16500 Hits