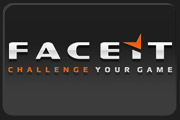 Number two of the FACEIT Sunday Summer Cup is going live tomorrow afternoon!
The FACEIT Summer Season will be played each Sunday for the coming month, where 128 players can join and play for $125, as well as points to qualify them for the Finale.
You can already
sign-up for the tournament
at this moment. Check-ins will open at 07:00 CDT, with the cup starting at 08:00 CDT.
This Sunday (7 July) will be the first Sunday Summer Season cup. It will be brought to you by

Daniel "
ddk
" Kapadia and

Bruno "
ins
" Pereira on

FACEIT TV
. The stream will go live at 08:30 CDT.
Last week we had a different final than we have come to use in the North America Sunday Cups. ZeRo4 managed to beat rapha to head into the final, where he met DaHanG. The latter managed to win in the end though.
You can sign up for the Sunday Summer Cup #2 already
, which will start at 13:00 CDT.
Unfortunately we or our third party service provider could not fix the issues in time. We have decided to cancel the cup. We apologies to the players and spectators we have dedicated their day to playing and watching FACEIT. We will be back next week with something special to make up for it. Again, we are truly sorry.
Stream:

FACEIT TV
Links:
Sign Up
,

#FACEIT
,

FACEITCommunity
,

@FACEIT
,

FACEITcom
Edited by roychez at 13:47 CDT, 7 July 2013 - 36153 Hits