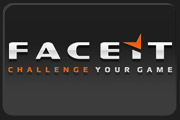 FACEIT
will be hosting two Capture The Flag cups in July, starting off on 6 July, followed by one on 13 July.
Both the cups are on a Saturday and will start at 09:00 CDT. The format will be Single Elimination, with all matches until the semi final being played in Best-of-1. The semi and grand final being Best-of-3.
On 6 July we will be hosting a
Draft Cup
, in which lower tier teams can participate and play for $400. All players in this cup must be below FACEIT Level 6. 13 July will be host to the
FACEIT CTF Pro Cup
. Teams with players of skill level 6 and higher will be able to show off their skill against one another, and fight for $700!
All the action will be displayed live on

FACEIT TV
, with

Daniel "
ddk
" Kapadia being joined by guests. Tune in on 6 and 13 July for CTF action, from 09:30 CDT onwards!
A special thanks goes out to crozar, who has donated the prizes to us!
Find further information on our
Press & Media page
.
Links:
FACEIT.com
,

#FACEIT
,

FACEITCommunity
,

@FACEIT
,

FACEITcom
Edited by roychez at 05:21 CDT, 27 June 2013 - 13548 Hits