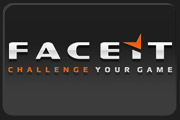 Dear FACEIT and Quake followers,
After many months of supporting Quake Live, we had much feedback that you wanted more, bigger and better. We have worked hard to make this happen. What does this mean? More tournaments, more prizes, and more fun.
We will be hosting a minimum of eight
FACEIT Points Tournaments
a day starting coming Monday. In these tournaments you will be able to win points. After you have gathered a certain amount of FACEIT Points you will be able to exchange these points for prizes in our new
Shop
, such as hardware, but also special prizes such as a holiday in Andora, Stermy's place of birth, or a FACEIT branded Fiat 500 (yes, a real car!).
These FACEIT Points Tournaments are free to join up to four times per month. The flagship tournaments such as the Sunday Cups and Pick Up Games are still open for everyone and do not count towards the four monthly tournaments.
If you want to play more, you can upgrade your account to Unlimited or Premium. Unlimited will give you access to as many FACEIT Points Tournaments as you wish, while you can play in one Premium Tournament per month. Besides this, you will receive a badge on your profile, stating you as a "Supporter" of FACEIT. This all for as low as £2.99 per month.
Premium users will have all services available to them for as low as £5.99 per month. While they get all that Free and Unlimited users receive, they will be able to play in an unlimited amount of Premium Tournaments. Next to this they will receive a 1.5x FACEIT Points boost, access to Premium Prizes and a badge stating you as "Premium Supporter".
Should this model prove a success, we can further expand our support for Quake Live and become bigger and better for everyone!
Links:
FACEIT
//

#FACEIT
,

FACEITCommunity
,

@FACEIT
,

FACEITcom
Edited by roychez at 14:46 CDT, 17 May 2013 - 19682 Hits