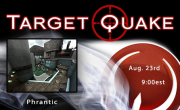 Scheduled: 19:00 CDT, 23 August 2012 to 22:30 CDT, 23 August 2012
Schedule:
Passed
Check it out peeps! Going to get some old Q3 CPMA map action going here but without the PQL, sorry guys! Just wanna borrow
Phrantic
for a night! Just a REMINDER it is on a Thursday not Tuesday!!!
This event starts at 20:00 CDT with check-in starting at 19:00 CDT, and is first-come first-serve, so check-in early!
Anyone who doesn't have premium or pro don't worry we can spawn a server for you and your opponent if neither of you have it! I would prefer to see all matches played on private servers with passwords in order to not have any disruptions!
Hope to see you all sign up!
Stream:
Targetquake_tv
Links:
Event Info
,
Sign-up
,
Demos
||

#csn.ql
,

#tq_tv
,

@CyberSportsNet
,

@CyberSportsNet
Edited by easytarget at 16:49 CDT, 26 August 2012 - 11540 Hits