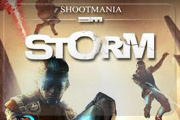 What an event it was; Cybsum. The six best ShootMania teams showed some amazing class and skill in their matches.
After some small delays, the event went live with Trevor "qu1ksh0t" Henry, a known League of Legends caster, on the mic. The six teams were placed into two groups: The international one and the French one. The opener of the day was colwn, top favorite to win, versus Team-LDLC, an underdog.
This match proved to be little trouble for colwn, as they steamrolled their first three maps of the tournament and picked up frags in quick succession. Team-LDLC proved little opposition to the two Frenchmen and the Italian of colwn. After their successful start, the team continued to show their strength against adK as well, but even though the final score was 3:1, adK proved to be a strong team as every map ended in a close scoreline. The French group ended with colwn on top, adK second and Team-LDLC third.
For the full coverage of the event, head over to
this page
. Also a big shout out to qu1ksh0t and Mennace for a great cast!
Source
:
ShootManiaEsports.com
Edited by Badb0y at 10:03 CDT, 24 June 2012 - 83774 Hits