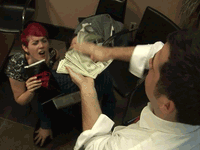 First of all, like all conspiracy theory it's pretty much bullshit, but unlike all conspiracy theory it isn't that far fetched which makes the whole thing at least a bit funny instead of being just completely irritating.
Bloodrun is probably the most played map in casual duel play, it's probably even overplayed to death. It's isn't rare that some people pay for premium/pro and still massively play ztn which we all agree is a bit stupid. It's also the only popular non premium map in cup map pools, because quite frankly not a lot of people play dm13 or t7 on public servers, mainly because people don't like these two maps.
With all that being said here comes the conspiracy part, ID decide to change the spawns and to completely change the feeling of the map. People aren't happy and don't want to play the map anymore, but they still don't want to play dm13 or t7 either, so what could they possibly do ?
THEY BUY A PREMIUM OR A PRO ACCOUNT IN ORDER TO PLAY THE PREMIUM MAPS IT'S SO GENIUS AND YET SO SIMPLE BUT THE SIMPLICITY IS ALSO WHAT MAKES IT SO GENIUS SO IDK LOL
Picture related
, it might be SyncError's office right now.
10229 Hits