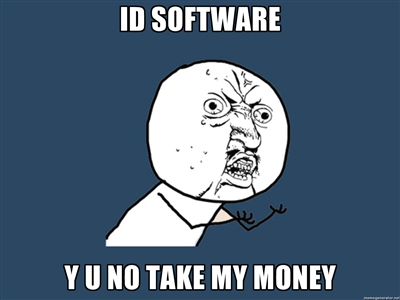 To have
Limbus (TDM)
and
Sinister (Duel)
added to Quake Live.
In fact I'd much rather pay a small sum for those, rather than older classics as they
most likely
probably
hopefully
, albeit with slim chance in spite of my otherwise optimistic thinking, will add more of them in time. I mean, Camper Crossings is a classic for cpma regulars, and it was added, so PQL is on the rise. Sort of. They don't have much to work with, but they're coming.
Anyway, who's with me?
SyncError is welcome to post account info so I can pass on the cash immediately.
Mon
Tue
Wed
Thu
Fri
Sat
Sun
1
2
3
4
5
6
7
8
9
10
11
12
13
14
15
16
17
18
19
20
21
22
23
24
25
26
27
28
29
30
31
4265 Hits