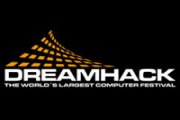 DreamHack can together with the two sponsors ZOTAC and Plantronics finally present all the details of our Quake Live TDM tournament: DreamHack ZOTAC Championship. Last Summer DreamHack proudly hosted the first Quake Live TDM tournament in a very long time. With the great success and high quality of the tournament it was an easy choice to go with Quake Live TDM again for this DreamHack.
"Quake Live is the ballet of eSports, it's an art and a sport, a experience that tickle all your senses. It feels great to have both Plantronics and ZOTAC in this project and support one of the most dedicated communities out there." said Fredrik Nystrom, Press Officer at DreamHack.
"This year we'll only host a TDM-tournament, but we'll add some duel to it – at the new DreamArena in the ice hockey arena we'll host one showmatch in duel with 20 000 SEK on the line. We want to show the world of eSports that Quake Live still is a great spectator game." said Tomas Hermansson, Head of eSports at DreamHack.
Check out
this DreamHack Winter Quake Live Video
, get your Rocket Launcher and sign up for this Winter Quake Live Tournament!
Links:
Dreamhack.se announcement
,
YouTube teaser
Edited by xou at 03:20 CDT, 20 October 2011 - 81211 Hits