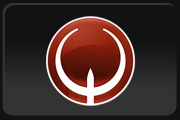 Hey everyone! I just wanted to let you all know that
http://www.gamebattles.com
is going to be starting a dueling ladder real soon, probably within a week! The registration for the ladder will be completely free, and once you register, you will be able to start competing against other Quake Live players for the ladder!
This is also a stepping stone for Major League Gaming to see how involved Quake players will be in the ladder, and if successful, Quake Live will have a better chance at becoming an official MLG Pro Circuit game played at live events!
If you're wanting to compete in duels for Quake Live and want to see how you stack up against others, Gamebattles.com is the place to go!
Show your support for competitive Quake Live!! Help spread the word, and I will definitely post here once the ladder goes live!
I know Pros visit this site such as vo0, and it would be great if the Pro community would register for this ladder, and by doing so it will show MLG that the community supports this game and wants to see it at live events!
Cheers!
Edited by TTU VAPOR at 12:12 CDT, 10 April 2011 - 10600 Hits