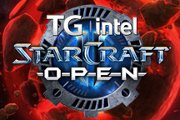 The Global Starcraft II League (GSL) was
announced
last month. The GSL will take place each month, with a prize pool of $170,000 per tournament. At the same time, the league will server as a qualifier for the GSL2011 main season.
During the last days the Ro64 was determined, including the foreigners


TheLittleOne,


IdrA,


Artosis and


TorcH. Brackets are available on
TL.net
.
GomTV now announced some details concerning the international Stream with

Artosis and

Tasteless. There will be no free Stream, but several
premium offers
:
Season LIVE Ticket - $19.95, 1 day LIVE Ticket - $1.95 and special mobile offers that are to be announce.
The VODs will also be released behinda paywall, requiring their very own Season VOD ticket - $29.95.
Source:
GomTV.net
vis
teamliquid.net
Edited by xou at 12:03 CDT, 29 October 2010 - 111214 Hits