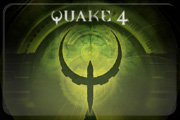 Quake4 Launcher v1.0 & "Prodigy" by Kryw
We've been working hard to try and make something to
help Quake 4 be more setup friendly
to everyone willing to try it.
We have reach a milestone in development, and are confident enough to release v1.0 of the launcher.
TL;DR Video:
**A QUAKE4 LAUNCHER?!**
- Provides a
desktop server browser
for one click connect & play
- Provides an
easy configurator for the game
- Detects your Q4 steam install path and
sync the required maps
to play on server
-
Installs q4max
with sample CFG and HUD
- Provides 5 reworked pk4 files that
includes all popular maps, reordering them by mod and popularity.
-> Use those 5 paks on your servers will get you every map you need!
Next version features: friends, auto-matchmaking, & more
**A NEW DUEL MAP?!**
The launcher also contains the first public version of "Prodigy" by professional mapper Kryw.
Move & speed
oriented
duel map
. DM (5-6 players) also awesome!
First ever Quake 4 1.4.2 speed optimized map.
All existing maps
, even the awesome Monsoon,
have some flaws
because of the changes in gameplay that occurred along the short lifetime of Q4.
Finally a new and optimized one thanks to
Kryw
New season of Q4L Ranked games
will begin shortly on our discord pubobot ladder, and a
cash prized tournament on Prodigy
will be announced soon!
Join us on Discord at
http://discord.gg/hRhu7BjeUG
Quake 4 Launcher v 1.0 : (you need Q4 installed on Steam)
https://drive.google.com/file/d/1UcTXe_6wIaoaosf_CEapXpueAnGvef5F/
Useless website at
http://www.playq4.net
See you in two clicks!
Edited by PlayQ4.net at 19:20 CDT, 12 September 2021 - 786 Hits