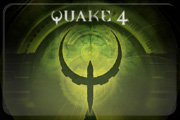 Hi folks,
As most of people coming here may know, with a bunch of quake4 players we decided to create a
discord community
with good spirit and awesome players.
Discord features:
- Ladder bot with
ranked games
and
ELO trueskill
system
-
CTF events
two times a week with prior registration
-
Friendly
and invested members
- no bullshit :)
- Many
active players
from all levels and all backgrounds
We invested into several quality servers running 240 tickrate :

de.playq4.net

fr.playq4.net

nl.playq4.net pw: playq4

pl.playq4.net

swe.playq4.net

ru.playq4.net

(DeathMatch server) 2.59.238.164:28005
A few old pros are popping out, now is the time to sharpen your skills and come back to the greatest AFPS there is!
Such a fast game running at 250FPS with no mouse input lag will blow your mind if you give it a try! :)
Join us!
PlayQ4.net
Edited by falcuma at 17:34 CDT, 11 May 2021 - 1768 Hits