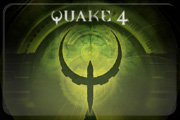 Today is a big day for whole Quake 4 community —
Quake4.Net is launched
. This is an universal source for Q4 players that contains many of useful info about installation, setting up the game, running servers; latest news about tournaments and server upgrades. Useful Gaming Rigs page contains largest Q4 players database, and you can submit your gaming rig and mouse settings, just fill out the form. The table contains players' GUIDs which allows you to verify the opponent.
Also if you have any troubles with game installation or config setup, contact support through a special form —
https://quake4.net/install-quake-4/
(after reading F.A.Q!)
Also join main Quake 4 Discord with powerful
Pickup bot
with
Ranked Elo ladder
that helps to find game as fast as possible; and events like new
Sunday Weekly TDM/CTF Drafts
(this weeks TDM was total success with server full for 2 hours straight!). There is strong moderation, but we will be happy to see you!
But that's not all — I'm glad to announce
250FPS Duel Cup
in
June 2021
with $100 prize pool — see the Tournaments page.
Quake4.Net will grow and be updated with new content! Good luck and have fun ;)
https://quake4.net
Join Quake 4 — best AFPS in the world.
Edited by earthlukas at 11:38 BST, 4 May 2021 - 10556 Hits