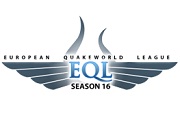 The spring season of
European Quake League (EQL)
has just started as we saw the 20 teams signed up getting sorted into two separate divisions last Sunday, with the league officially starting this week.
Division 1 consists of 11 teams and will feature an A and a B playoff where the teams ending up on spot 1-4 advance to the A playoff, while the teams ending up on spot 4-8 goes through to the B playoff. In division 2 there are 9 teams and there will be one big playoff featuring all the top 8 teams, leaving one poor team missing out on the fun. In the group stages the teams play eachother once in best of three maps while playoff games are played best of five maps. The playoffs are scheduled to begin on the 12th of May.
The premier game is yet to be played, but if one is curious to know what to expect then

Hooraytio
has had a look at the contenders in division 1 of the European Quake League, sharing his view on the strengths and weaknesses in the various participating teams this season. Head on over to
his column on the EQL website
to read his thoughts on what there is to expect from the Premier League of the QuakeWorld 4on4 scene.
Read more on the EQL website
Edited by Åke Vader at 13:00 CDT, 3 April 2013 - 5891 Hits