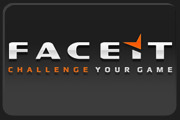 Scheduled: 13:00 CDT, 16 October 2012 to 16:00 CDT, 16 October 2012
Schedule:
Passed
As the Adroits LAN is set for this weekend, we will not be hosting our weekly FACEIT QL Sunday Cup. Therefore we have come up with some new cups for tonight, so you can still get your Quake fix.
This evening,Wednesday, at 13:00 CDT we will be hosting two cups, each allowing 64 players. It will be the first time where we will be using our Tier system. The Tier 4 Wednesday Night Cup will have 20$ and 10$ for the Tier 3 cup. Check-ins will open at 12:00 CDT.
Below you can find more details for the Wednesday Night Tier Cups. If you're not sure what Tier you are, simply go to both cup pages and you will see which one you are able to join.
*Finished*
The Tier system is not working entirely properly yet, and we're working on a better system at the moment. So if you feel your Tier is lower than it displays, feel free to join the Tier 4 cup.
Links:
FACEIT
//

#FACEIT
,

FACEITCommunity
,

@FACEITcom
Edited by roychez at 15:57 CDT, 17 October 2012 - 12037 Hits