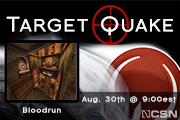 Scheduled: 19:00 CDT, 30 August 2012 to 22:00 CDT, 30 August 2012
Schedule:
Passed
Well the time has come the
Blood Run
is in da house!! So grab your Rocket Launcher and your Rail Gun, and lets see some oldschool vs newschool fragging. Just a REMINDER it is on a Thursday !!!
This event starts at 19:00 CST with check-in starting at 18:00 CST, and is first-come first-serve, anyone who checks in will get to play we will just increase the bracket size.
Anyone who doesn't have premium or pro don't worry we can spawn a server for you and your opponent if neither of you have it! I would prefer to see all matches played on private servers with passwords in order to not have any disruptions!
Hope to see you all sign up!
Stream:
Targetquake_tv
Links:
Event Info
,
Sign-up
,
VODs
,
Demos
||

#csn.ql
,

#tq_tv
,

@CyberSportsNet
,

@CyberSportsNet
Edited by wn at 17:01 CDT, 26 August 2012 - 12239 Hits