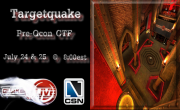 Well since QuakeCon is almost here and my favorite gametype is CTF, I have decided to host a two day event!! Round 1-3 will be held on the traditional Tuesday and the Finals will be played the following day! Same bat time same bat channel!!!
Who:
CSN
What:
CTF - Single Elimination - All teams welcome!
When:
Check-in, Rounds 1-3 19:00 CDT, 24 July 2012 & Finals 20:00 CDT, 25 July 2012
Where:
QuakeLive - North America Servers Only!!
Why:
Qcon is Coming!!!!!
Stream:
Targetquake_tv
Links:
Event Info
,
Sign-up
,
VODs
,
Demos
||

#csn.ql
,

@CyberSportsNet
,

@CyberSportsNet
Edited by easytarget at 13:26 CDT, 30 July 2012 - 9415 Hits