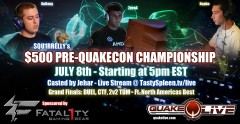 Scheduled: 16:00 CDT, 8 July 2012 to 20:30 CDT, 8 July 2012
Schedule:
Passed
It has been a very exciting journey, and is now coming to an end! The Grand Finals will be this Sunday, casted by Jehar & Friends. Featuring North America's best in 2v2 TDM, Duel, & CTF.
Share the word and thanks for helping us promote Quake! This is a great opportunity to get a preview some of the best teams & players in North America before they compete at QuakeCon in 4 weeks.
Special thanks to everyone competing & my buddy Fatal1ty for helping me double the prize money and donating Fatal1ty gear. We plan to do more more events for the community.
For highlights, a personal favorite part is DFM vs 8X: Zero4 medkit scene -
starts
@ 12:50
Stream:
Tastyspleen.tv
Links:
Previous Matches,
Brackets
Edited by wn at 20:36 CDT, 8 July 2012 - 16480 Hits