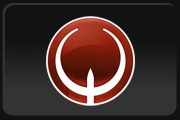 The Avalon-Clan, hoster of the [AVA]-CA-Trophy, has published a ranking of all european clanarena teams that has been active in 2010.
All major competitions are processed in this ranking.
There is a factsheet with the rules of the calculation available too, and the first two weeks of the ranking.
This week the Clanbase Opencup starts so we will have much more activity and moves in the upcoming ranking next monday.
The current Top10
01. 9,037

Procedemus
02. 8,093

Ownage unit [of] cheating homosexuals!
03. 7,219

fusion.ql
04. 6,400

Victims of Society
05. 5,666

Chaos Crew
06. 5,417

Lame Mind
07. 4,942

Avalon-Clan
08. 4,650

Kill Revenge Survive
09. 4,607

#ZLO
10. 4,152

7th Art
The Avalon-Clan will update the list every monday about 12 cet.
Links:
http://www.avalon-clan.com
Edited by Sordo at 10:59 CDT, 21 April 2010 - 3720 Hits