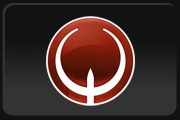 Why using r_picmip 5 to play QL ?.
Ok with Quake III, lightning, plasma were great with r_picmip 5.
But with QL, it doesn't affect things like this.
I wonder, how many people here, who actually uses r_picmip 5 to play QL, and try now r_picmip 4 are going to keep 4.
Alternative : why they don't like.
Just try few mn, versus a bot for example, and be honest.
BTW : Too much details r_picmip < 4 is not very good.
r_picmip 4 kicks ass, or i am just ass hole ?.
;-)
Mon
Tue
Wed
Thu
Fri
Sat
Sun
1
2
3
4
5
6
7
8
9
10
11
12
13
14
15
16
17
18
19
20
21
22
23
24
25
26
27
28
24810 Hits