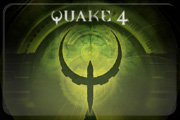 This is the BETA of our broad QUAKE 4 update. It fixes issues and adds gameplay elements throughout both single and multiplayer—including voice chat in multiplayer, a forecemodel option, a one-minute warning for tournament matches, fixed pure server autodownloading, Hyper-Threading Technology support, smooth stairjumping and a ton of multiplayer specific fixes which have been requested by the community and discovered during our own gameplay. In short, multiplayer is fixed. ;) For a complete list of new features, fixes, and changes, please see the ReadMe file.
This update will bring any previous version of the game completely up to date, however it will affect pure server and protocol consistency. Therefore, players who update to 1.1 BETA will only be able to play multiplayer against other 1.1 BETA users, and save games created on previous versions of the game will not be compatible with the 1.1 BETA update. Please use the form at
www.idsoftware.com/bugs/
to report any issues you find with the 1.1 BETA update.
Once we are satisfied the 1.1 BETA is completely solid, we will release the FINAL 1.1 update. This will be a required update and will be available through the "Update" option in the game. With that release, we'll also be including 4 all-new multiplayer maps in addition to the QUAKEMAS map pack (3 maps) that was released in December.
We are currently working with the mod team community to deliver the 1.1 SDK and bring their mods current as soon as possible. Lastly, stay tuned in the coming months for additional free game content including new maps and gametypes.
Please take a bit of time to look over the entire
(ReadMe)
, but many highlights include Pure Server / Autodownload fixes (AddonPaks), forcemodels, built-in voicecomm chat, smooth stair strafe jumping, new scripting options to allow for multi-commands per bind, mouse acceleration, zoom sensitivities, fovs above 110, private clients for servers, many new voting options and working voting flags, teammate name/health popups, removed cheat protections from bob-like commands, new hit sound for below 25 health, increased volume of RG and LG hum, simpleitems... ..just read it.
More coming in the final pointrelease, we just need to test all of these and get some feedback. Patch should be available in about an hour or so from the time of this post.
*Update*
The patch is now available for download and Linux links updated
:
Click
to get the patch file from id's ftp server.
Windows Mirrors
PlanetQuake4.net
Levitation Mirror
0wned Hosting Mirror
File Front
Fileshack
estonian mirror
Linux Mirrors *Updated*
id ftp(1.1-beta.3)
Levitation (1.1-beta.3)
Servers
195.242.220.170:28004 0wned Hosting Public Server (UK)
195.242.220.106:28004 0wned Hosting (UK)
85.25.130.108:29000 (Germany)
212.129.163.14 ( Netherlands)
213.208.119.119:28004 - jolt.co.uk - (1.1 beta) - DM #1
213.208.119.119:28005 - jolt.co.uk - (1.1 beta) - DM #2 (Popular Maps)
213.208.119.119:28006 - jolt.co.uk - (1.1 beta) - DM #3 (Popular Maps)
213.208.119.120:28004 - jolt.co.uk - (1.1 beta) - CTF #1
213.208.119.120:28005 - jolt.co.uk - (1.1 beta) - CTF #2 (Popular Maps)
Edited by Levi240 at 08:11 GMT, 24th Feb 2006 - 78277 Hits