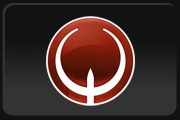 Hello everyone. First of all, I apologize if this matter has already been discussed hundreds of time and people are tired of it, I didn't check the whole forums.
I was wondering if people at id software had the idea to have QuakeLive fully functional under MAC OS ? I am not a MAC user personnaly, but I have some friends that have MACs and they don't want to install a windows part (or they don't know how to do it) to play QuakeLive. That's a shame because they like the game and we play from time to time for fun but access to console and config tweaks are really hard, they get lots of disconnection and bugs, etc.
Since there are not patches every months (I'm not saying it's a bad thing, it's just a fact), I wonder from time to time if they are working on a MAC version or not. I think it would be a great addition to the game since MAC are getting more and more popular.
I have no idea about how much work it could take to make QL supported by MAC, are there people in here that could explain to me what is hard in the process (a summary ofc, I don't need technical explanations since I don't know anything about coding).
Thank you.
859 Hits