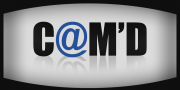 Hey guys, we are proud to present to you: c@m'd, the movie. The video features me, well known Australian Quake Live player Cameron 'Camma' Hockley. Many members of the international community on ESR are probably more familiar with my twin brother, Frazer 'fraZe' Hockley!
Anyway, onto the important part, the link to the video! ;)
http://www.youtube.com/watch?v=aqyEnnIm6Dk
A huge thank you must go out to Reuben 'S4' Wakefield for putting in all of this time and effort, as well as having to put up with my constant nagging and constructive criticism. I enjoyed working with Reuben, and this was largely due to our sharing of creative visions, which worked well in conjunction. I'm very happy with our completed movie, and we hope you guys enjoy it as much as I enjoyed fragging all the Aussie guys! (as for everyone else, watch out for a possible LAN visit from Fraze and I in 2013 ;) )
Comments and feedback are of course welcome, both positive and negative, and I look forward to getting more quality frags and feedback for c@m'd.avi 2.0 ;)
Enjoy!
For a download of the movie file for better quality and frame rate, click here:
www.lumino.co/camd
Reuben's website can be found here:
http://www.lumino.co/
1135 Hits