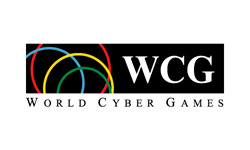 View Coverage:
WCG2003
Organiser:
WCGOC
Website:
http://www.worldcybergames.org
Location:
Seoul Olympic Park, South Korea
Duration:
12 Oct 2003 to 18 Oct 2003
The WCG 2003 will be held at the Seoul Olympic Park from Oct.12 ~ 18, 2003.

The event will expand its focus to provide gamers with an enjoyable experience as well as the general public with great "fun to watch" spectator facilities and events.

A total of eight official games were selected for competition including console games.

Participation is anticipated to expand to 50 countries across the world.
Planning for the third official World Cyber Games, dubbed the WCG 2003, has begun in earnest with the formal announcement of the opening of the event.
ICM (International Cyber Marketing Co., Ltd.), the global operator of the World Cyber Games, announced that the WCG 2003 would take place from October 12 ~ 18 this year at the Seoul Olympic Park. ICM accompanied the announcement by stating that, "This year's WCG as opposed to last year's will expand the previous focus that was on the games and the tournament itself to increase the enjoyment and fun for all the world's gamers as well as spectating public and thus continue to develop the event's position as a comprehensive game entertainment and cultural festival."
ICM continued on by saying that, "The WCG 2003 will take steps in advancing toward being a truly global game festival where the world can become one via e-sports, and will thus move toward achieving the original vision of the World Cyber Games to lead the development of the digital entertainment culture into the future."
Participating countries for this year's WCG 2003 is anticipated to expand to 50 countries, more than the 45 countries that participated last year, and the total prize money is expected to rise by US$100,000 from that of last year to reach a total of US$400,000.
The finalized official games are, for the PC platform, StarCraft® : Brood WarTM, WarCraft® III, Age of MythologyTM, FIFA 2003TM, UnrealTM Tournament 2003, and Half-Life® : Counter-Strike. Games for the console platform will be officially finalized shortly in addition to other worldwide and local demonstration games including a domestically-published ti
tle.
The preliminary tournaments of the participating countries are set to begin in March and end with the national finals to select national team members to come to the WCG 2003 Grand Final in October. In the case of Korea, the national preliminary will include two parts, first an online tournament followed by an offline tournament, to narrow down the field and finally select the final national team members.
<WCG 2003 Introduction>
Title: WCG 2003

Slogan: Beyond the Game

Concept: The world's best and largest game entertainment and cultural festival

Tone & Manner: Fun & Exciting

Dates: October 12 ~ 18, 2003

Location: Seoul Olympic Park in Seoul, Korea

Timeline: National Preliminaries: Mar. – Aug. / National Finals: Sep. / Grand Final: Oct.

Games (Official Games/Total 8):

PC Platform - StarCraft® : Brood WarTM, (WarCraft® III), Age of MythologyTM, FIFA 2003TM, UnrealTM Tournament 2003, and Half-Life® : Counter-Strike

Console Platform – Total 2 Titles Expected

Expected Country & Player Participation: 50 Countries / 600 Players
Edited by Sujoy at 23:08 GMT, 25th Jan 2005 - 13269 Hits