From the internationally acclaimed innovator of the groundbreaking field of performance climate controlled personal computing peripherals, and world renowned inventor of the
Skinner Pad
, comes: Pro Chamber [patent pending].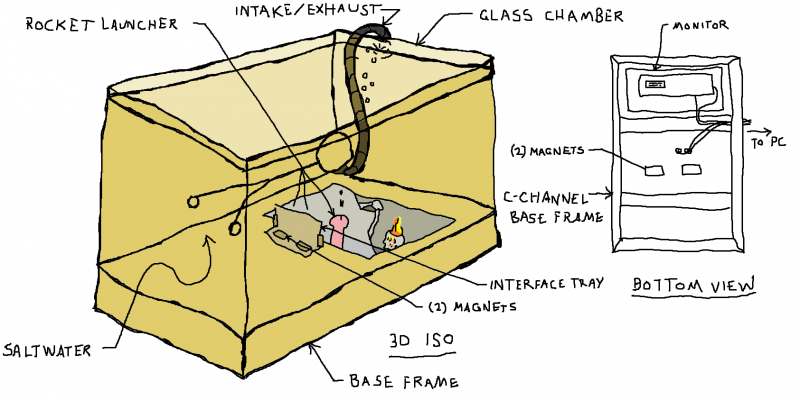 Pro Chamber [patent pending] is a salt water filled tank precisely engineered to provide a low-gravity low-impact high-focus low-light high-light low-maintenance high-quality productivity experience. Whether your goal is to score the winning frag for your squad or craft the perfect spreadsheet for your regional management presentation, Pro Chamber [patent pending] will subtract outside forces from the equations to your success.
Four magnets work in tandem to create the Pro Chamber's [patent pending] signature NMXYAIDT [patent pending] (Non-Mechanical XY Adjustable Interface Device Tray [patent pending]). Drag the tray anywhere, but be mindful of the tension in your interface device cables! Durable telescopic tray arms ensure that your devices are always within your reach, unless you prefer otherwise.
Select from two geometrically pleasing and physically efficient orientations, such as:
Portrait
and
Landscape
Premium options include less obstructive mask and tubing, sealed and reinforced Oculus Rift head mount, interface device extensions and couplings, scaling ladder, water filter and bladed rotary flow generator, water heater with digital thermostat, web server providing administrative control on the local network.
Edited by brandan at 19:10 CDT, 28 October 2013 - 6308 Hits