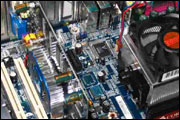 After Heaton mouse there is now Spawn mouse..
http://www.coolermaster.co.uk/product.php?product_id=6693
Looks nice and small perfect for my fingertip grip.
But I think it looks heavy :<
I bought EC2 mouse and it was disaster because of strange sensor tracking. Hope this optical will track better than EC2 and this one is cheap too if you compare with Heaton mouse. It's £33.69 which is half price of rip off EC2!
68434 Hits