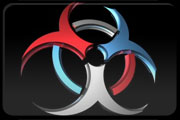 Cyberfrags is a super-fast arena/movement shooter, with loads of guns and lots of ways to move REALLY fast. Since the CF community is still small there aren't many servers floating around, so feel free to hop into the discord and we'll double-jump into a game with you!
Movement-wise its a mix between Quake & Titanfall, but faster. ( including Walljumps.)
Steam page:
https://store.steampowered.com/app/1674270/Cyberfrags_69/
Discord:
https://discord.gg/2YyAvwp8Vw
Thanks for taking a look!
3608 Hits