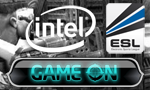 Intel Game On
together with the
Intel Extreme Masters by ESL
will host a series of Quake Live cups for players from around Europe and the Middle East. The first cup to kick off will be the Nordic Cup #1 on the 18th of October.
Update:
Intel have been reading your feedback and have added Iceland to the Nordic region!
Update 2:
Ireland is now included with the UK, and Russia has been expanded to include the CIS countries.
Update 3:
The first Nordic cup took place last night with

fooki beating

linkoo in the grand final.
Sign up for the second cup is open now!
The top 16 players from each country/region will qualify for their national/regional finals for the chance to win these prizes:
Prizes for each country/region
- 1st: Intel® Core™ i7 Processor Extreme Edition i7-965
- 2nd: Intel® Core™ i7 processor i7-940
- 3rd: Intel® Core™ i5 processor i5-750
- 4th: ROCCAT™ Kone – Max Customization Gaming Mouse
The best player from each region also qualifies for the international final: The Intel® Extreme Masters GameOn Cup – Finals. We will release further information about the other countries/regions next week.
Source
:
ESL Nordic Cups announcement
Edited by therogue at 08:59 CDT, 26 October 2009 - 34867 Hits