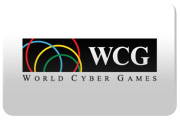 View Coverage:
WCG2005
Organiser:
WCG Organising Committee
Website:
http://www.worldcybergames.com
Location:
Singapore
The World Cyber Games is the world's first "Cyber Game Festival", designed to build a healthy cyber culture. The best gamers around the world gather into different cities to share the excitement and fun of the game tournaments.
The World Cyber Games is a stage of harmony and friendship, where everyone is invited.
The World Cyber Games also organizes a conference in game business and exhibition for game industry leaders and exhibitors to look into the past and the future of the game industry, helping the industry to see the overall trend and possibilities for the future.
Held on an annual basis ever since 2000, the World Cyber Games has continued to set the standard in global game competitions as well as providing comprehensive and fun game-related content to the world. Since WCG Challenge started, WCG has broken the language barrier, created games the second common language for the world after sports.
WCG Challenge had been held in 2000 as the vanguard of cyber tournaments. Inherited spirit of WCG Challenge, WCG Committee had been held the first WCG last December, 2001. Since WCG 2001, WCG Grand Final has been growing its scale. In 2003, WCG had been held the third WCG Grand Final in Seoul on the slogan of ¡°Beyond the game¡±.
Now, it is the moment to celebrate WCG 2005 to bring the young generations of the world in peace and unity.
Edited by Sujoy at 17:49 GMT, 4th Feb 2006 - 14095 Hits