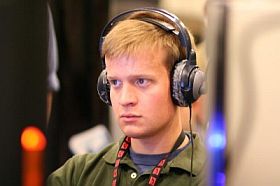 Rod "
Slasher
" Breslau reports:
Paul "czm" Nelson has announced that he will be signing with the North American-based gaming organization Evil Geniuses. He will represent EG during his stint at the ESWC Masters event in late June, as well as any other additional Quake 3 events this year.
"I look forward to representing EG at the ESWC Masters event in Paris, and subsequently working with them to develop my side-career as a professional gamer," tells the CalTech grad student. "It has been a while since I last competed in Quake 3, and it should be quite exciting and challenging to compete against today's best players."
The last event Nelson participated in was his championship run at CPL Winter 2006, a dominating performance over such international stars as Anton "Cooller" Singov, Zhibo "Jibo" Fan, and Alexander "Z4muZ" Ihrfors. Included in that run was his remarkable comeback against his arch-nemesis Singov, climbing back from a 13-2 deficit on pro-q3dm6 to secure victory with only a sliver of health.
Team EG Executive Director Alex Garfield who has put together winning squads in Counter-Strike and Call of Duty 4, but is still missing an international victory, looks forward to his newest prospect. "It's an honor for EG to be part of Paul's first long-term commitment to a professional gaming organization. He's a player who's been courted by many organizations over the past five years, and I'm glad that he sees in EG what I see in EG; I think we were the best fit for him, and we're going to give him more support than he's ever had before."
More infos/sources: myeg.ca - sk-gaming.com
Photo credit: GotFrag.com
Edited by Badb0y at 07:27 CDT, 6 June 2008 - 38763 Hits