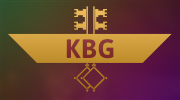 Put your rockets beside and pick up your MP40, set up your rifle grenade and get set - Prepare for May 19 - 21! The Krefeld Battleground will be the LAN event for Enemy Territory in 2017.
Hang out with gaming enthusiasts and community members while you battle for the keys of Krefeld. There is no better place to feature the aspect of competition and socializing than the TakeTV venue. The crew that created a monument to feature the aspects of gaming and socializing on highest level of standards offers us the space, the computers and the ethics to enhance the great legacy ET has.
Where?
Take TV Venue in Krefeld
When?
From Friday, May 19th 10.00 CEST to Sunday, May 21st 20.00 CEST
What?
6on6 tournament with 10 teams and 3on3 tournament with 12 teams
Prize pool
2,300.00 Euro
Links
:
Sign up & More information about the event
,
crossfire.nu News
Edited by Badb0y at 12:33 CST, 12 January 2017 - 7072 Hits