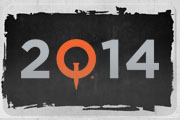 First the announcement:
I ( Romain "dem0n" Leclercq) will be attending QuakeCon 2014 and participating in the Intel® QUAKE LIVE Duel Masters Invitational Championship as well as the PCPartPicker QUAKE LIVE® Capture the Flag Open. Community favourite Memento_Mori provided for all of my travel and hotel expenses.
But I can't go alone!
That is not all! To the people that decide to help us out we promise couple of things:
Huge thanks to you all!
Update:
Thanks to your amazing support, we have already more than met our initial goal of 500€ with a total of 1007€ worth of donations within 24 hours ! We hope to live up the to the task you guys have given us. We still welcome any future donations if you guys want to ease out our team's expenses and/or wish to benefit from our little aftermovie surprises.
Links:
Donation
,

#exptoqcon
,

dem0n
Edited by dem0n at 09:50 CDT, 11 June 2014 - 160814 Hits