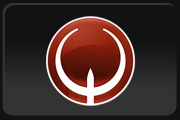 Quake 3/Quake Live is a really good game, maybe perfect -- but that doesn't draw spectators and pool prizes. Many game modes, maps, and even gimmicks still draws some new players to what is widely regarded as the definitive arena FPS.
Arena FPSes are dying though. Improvements in graphics, and several generations of incredibly popular party games - which act a bit like quake - like CoD have sort of pushed them to the side, for at least 6-7 years or so.
There's also a lot of changes in the environment in which these games reside. Wide populations of gamers who will soon be "born with a golden touchscreen in their mouth." Joysticks, having already seen generations of pros come and go. And if many developing companies have their way, eye tracking and body suits will dominate input.
The prospect of cross-platform play has mostly come and gone, stuck in a chasm where big industry can't even support it for real-time games. Networks have gotten more congested with the rise of high-bandwidth media traveling in the same place as exclusively so much simple text and game packets used to, also at the mercy of an even larger industry force.
With these things in mind, where does Quake go from here? From simple things like motion blur, mesh terrain, or weapon recoil -- to the insane, like a gaming-exclusive fiber WAN which is not at the mercy of Netflix, YouTube, and Facebook usage. What are your big ideas?
11456 Hits