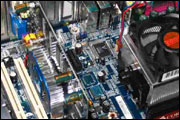 Hi all !
First of all, sorry for my english ..
I plan to make the KinzuAdder 2013 !
I followed all instructions I can found on this forum and note / paste them to make a little DB about kinzuadder modding.
I have seen a lot of mod with Kinzu V2 Pro but noone with V2. So, I will make my own post.
What am I using ?
- SteelSeries Kinzu V2 Orange
http://www.playpad.com.br/imagens/playpad.com...GE_01.jpeg
- DeathAdder Rev.2 (RZ01-00150100-R2M1)
- Omron D2-01F Switchs
First things I've done is to replace TTC switchs with Omron swtich. This part is ok.
Now, I will change my PCB with DA PCB but I don't know what to do to make the M3 button working. Kinzu PCB is not the same as Kinzu V2 Pro. I can upload some pics if you want. I've read Thunda's thread that is very helpull !
Cheers, Jayff
EDIT : Photo Album link :
http://imgur.com/a/5z1UG#0
EDIT2 : Second photo album :
http://imgur.com/a/RMXYu
Edited by jayff at 06:38 CDT, 14 May 2013 - 26198 Hits