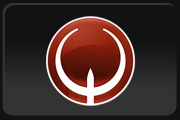 Imaged on www.zerious.eu
This is part 1.
Part 2:
[link]
- more possible ways of proofing my innocence (e.g. videorecording of me playing, sending original hardware,...), reflexivity about videogaming
Part 3:
[link]
- VODs

I don't enjoy writing that much about things, which could have been solved earlier, without any hassle, without annoying anyone, with appropiate methods of communication. This is my last resort.
Please review the demos and state your opininion. Thanks in advance.
Table Of Contents
0. tl;dr
00. Updates
I. Summary
II. Course of Events
....... a - The session or "WTF, the enemy makes 10x more damage!"
....... b - The Ban - Exchange of E-Mails
....... c - Aftermath
III. Media
....... a - Matchlinks and Demos
....... b - Configs
....... c - HUD
IV. e-Sports-Profiles
....... a - League accounts
....... b - ZeriouS
....... c - SanManChan
-----------------------------
0. tl;dr
Damage output bug - default client settings ( e.g. /handicap 100 )
- Bug exposed on 07.10.2012
- A few hours later my account was banned, till this day
- Either read more here and/or download the
complete demopack of that night
Example 1: Railgun overpowered
Example 2: Shotgun overpowered
Example 3: various
00. Updates
# 24.11.2012
### Using
wolfcam
I am able to work with the demos: review, convert them to avi
### Uploading on YouTube successful with raw avi
# 25.11.2012
### Preconverting avi-files to mp4-files with
VLC portable
### Testing various settings for best results after upload onto YouTube
-----------------------------
I. Summary
- Damage output between players unbalanced (compare shots fired with inflicted damage)
- Compare the hits/damage done in the embedded media
- 07.10.2012: Ban + submitting demos of a faulty server configuration
- Reason stated by Sasparillo "Use of third party software to obtain an unfair advantage within the game"
- Disregard of offered media (up to Sat 07 Aug 2010 19:55:56 CEST)
- 30.10.2012: "There will be no further consideration of this matter. The ban will remain in place."
-----------------------------
II. Course of events
....... a - The session or "WTF, the enemy makes 10x more damage!"
....... b - The Ban - Exchange of E-Mails
....... c - Aftermath
## Please excuse me if not everything is perfect in detail. It's been a while since the ban. ##
II.a - The session or "WTF, the enemy makes 10x more damage!"
In that night gaming session, I met a new player, cosinus, who I was trying to help out with a few tips and hints. We changed to (or were already) on a French server and all of a sudden, I wasn't able to inflict the same amount of damage.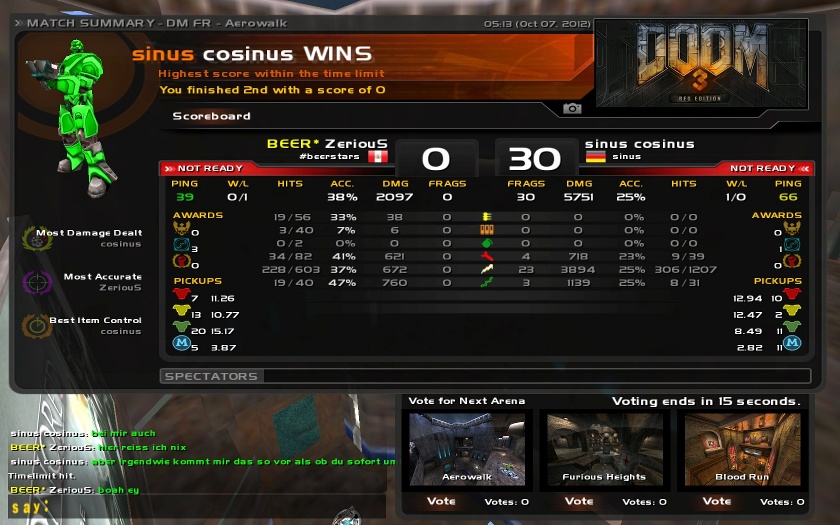 During before and in between the matches I changed mouses (Abyssus, G500, WMO 1.0a (the bad ones!)) and tried to change the usb polling rate on a Windows 8 RC version according to this
tutorial
).
I didn't thought that the server was bogus, because I am performing substandard on Aerowalk. But then, well yeah, it happened. Therefore I invited another buddy who was online to join that French server to test if it's really like that.
/handicap was set to the default value, so my damage output and hp/armor stack should be at max.
Now when both players 'cosinus', 'ziRe' or 'vanBasten' played against each other, then everything seemed normal. But when I jumped in and played against one of both, they were able to do multiple times more damage than I was able to do. After a few bogus rounds, we decided to change the server and the damage output was again back to normal for me.
Because of that, I didn't thought anymore about it, so I carried on. I adjusted the cvars a bit in my config, mostly the mouse accel.
But then all of a sudden I wasn't able to join any servers, I was banned.
07.10.2012 - 06:05:38 CEST - Last online-game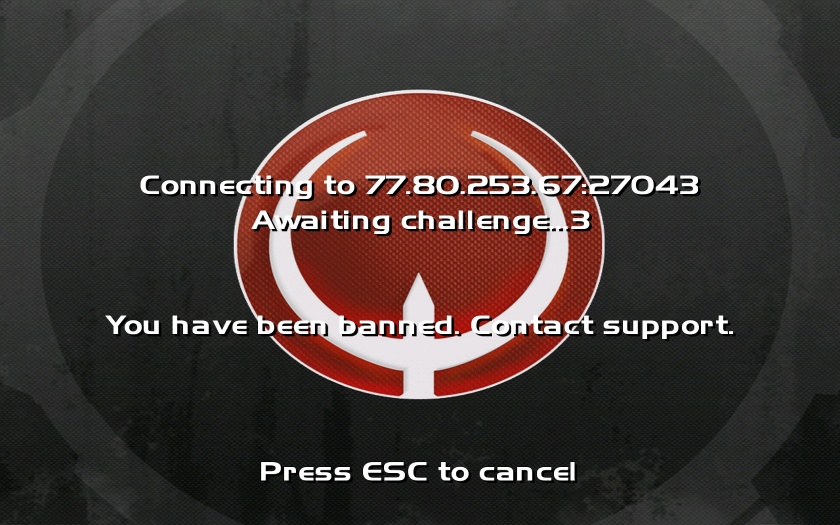 II.b - The Ban - Exchange of E-Mails
Then I initiated a correspondence and attached a few demos.
II.c - Aftermath
Unfortunately I have not received any answer since that time.
In the meanwhile my Steam-Account was hijacked and via brute-forceing via China (proxies I guess) attempts were made to gain access to another E-Mail account of me. Both things concerned me, so I had to gather through some protocols of a few websites as well. By now, most things seem safe.
But there is still the problem, that I am accused of using a 'third party software', where I don't know exactly when this has been caused. I would welcome a protocol of events with date and time (and perhaps timezone too), so that I am able to view through my security logs on the win8 system.
Currently I am unable to review the demos, since I am running a linux box, and it seems that my network card or the IP range is blocked. Therefore signing-in and running demos in practice mode is not doable.
I am on a 1GBit internet connection which is provided for the dorms by the University of Duisburg-Essen.
¿Would I have a right to view into my private internal logged data related to this gaming-account?
¿Do I seriously have to hope only for the kindness of my contractual partner?
¡Annoyingly in times of multinational winding up of agreements of microtransactions!
The demos can be downloaded here on ESReality, and the text will be published on my private website aswell.
-----------------------------
III. Media
....... a - Matchlinks and Demos
....... b - Configs
....... c - Hud
III.a - Matchlinks and Demos
- Chronologically sorted, available as
complete .zip here
- One of the dm6-demos is a rather short one, where we run into the MH-area and just fired some weapons to test if it was unbalanced or not. One of them shows exactly what was bogus.
-----------------------------
III.b - Configs
->
Download here
Please note the binds on F9, F10, F11, F12 are in reference to a post by Memento_Mori
Visibility, sound and spawns
-----------------------------
III.c - HUD
->
Download here
---- Arranged for a 1680x1050 resolution
Check this
Tutorial
on how to install custom HUDs @
www.holysh1t.net
-----------------------------
IV. e-Sports-Profiles
Another possibility is that my
second paid premium account
was somehow involved in one of the possible situations that triggered the anticheat-tool.
Now you may ask, "why a 2nd account?". In order to play without the buddylist messages annoying you (buddy on-/offline, messages in/out) since it's not possible to disable that or change to different buddy-list status (e.g. away, busy, in gaming; as in StarCraft 2). Therefore I have
only a few persons my buddylist
.
The alias is
one of my former nicks, used back in 2003
. And it annoys me now, that the reputation of my historical alias is tarnished, since that is something personal.
IV.a - League accounts
@ ESL-Pro Series
@ ClanBase
IV.b - ZeriouS
@ quakelive.com
@ QLRanks.com
IV.c - SanManChan
@ quakelive.com
@ QLRanks.com
More links available via my
ESR-profile
/
private website
This is part 1.
Part 2:
[link]
Part 3:
[link]
Mon
Tue
Wed
Thu
Fri
Sat
Sun
1
2
3
4
5
6
7
8
9
10
11
12
13
14
15
16
17
18
19
20
21
22
23
24
25
26
27
28
29
30
Edited by ZeriouS at 18:04 CST, 22 February 2013 - 43136 Hits