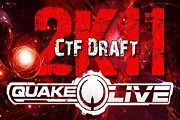 Scheduled: 14:00 CDT, 1 May 2011 to 21:00 CDT, 1 May 2011
Schedule:
Passed
The CTF Draft 2K11 has finished without a hitch. While a small number of the 40+ players had last minute conflicts preventing them from participating, the turnout and level of commitment from eveyone was remarkable. This event was a clear indication that North American CTF is booming and the talent pool is incredibly high. Just about every match was very exciting and close, there were numerous overtimes as well. We can only hope to see more of these in the future!
The finals saw a clash of the defensive titans, resulting in Thundercats coming out on top 3-0, in VERY close games.
Update:
Results posted below. VOD's from both casting organizations will be available shotly on their respective websites, demos soon as well!
VODs
:
Quake-Live.tv
,
ReadyUpRadio
Link
:
CTF Draft 2K11 Website
,
Brackets
-

#ctfdraft
Edited by xou at 12:21 CDT, 2 May 2011 - 57483 Hits