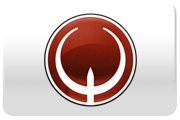 It is quite a long time since
Intel Extreme Masters
hit

Hanover at its World Finals and you have seen for sure a lot of interviews and movies from this great event. Also Czech expedition was at CeBIT and here are some of our movies we took with some of our stars.
I would like to start with

unHuman, really great German guy that did a lot of stuff for Quake community and we took a bright look to history of Quake and also think about its future.
Check this out
.
Our Interview session continued with other famous German players and local stars. For the first time we asked

K1llsen about his game and also checked

calipt, awarded as Intruder of the Year.
Naja, Natürlich
With second multi-chat we hit Polish Powa,

neo of Frag eXecutors and

Av3k, who - unfortunately - wasn't able to find his aggressive game style in Hanover.
Polski Rozmowa
We can't of course miss Master of Lightening, and my big favorite,

mr.strenx, to watch some demos and also ask about his secret stren-eX alter ego.
Trrrrrrrrrrr
Second place was achieved by Beast from East,

Cooller. We tried to solve some high difference and aimed our questions to his opponents and future plans.
I'am TALKING iT!
Winner of Global Finals and second time Champion of Quake Live, was

rapha. We can't forget to ask some question to this great person of gaming and best Quake Live player of the World as well.
Buffed, Beautiful and Bitchin'
I would like to thanks this way to all players for such a great event and I wish all participating players good luck and fun at

Stermy's LAN
starting on 31st March.
Related
:
Gallery
Edited by xou at 04:46 CDT, 27 March 2011 - 13169 Hits