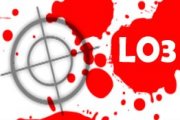 Scheduled: 18:00 CST, 25 January 2011 to 20:00 CST, 25 January 2011
Schedule:
Passed
Update
:
VOD
of the show is now up.
Live On Three
#68 with
djWHEAT
,
Slasher
&
SirScoots
is tonight with a recap of the ESL IEM European Championships. I have made the rounds and can happily say we are fortunate enough to bring on the three champions in Quake Live, Starcraft 2 & CS 1.6 even as the early morning hours hit. First time and long-awaited Quake Live champion Anton "
Cooller
" Singov, Sweden's continued dominance in SC2 with Jeffrey "
SjoW
" Brusi, and fnatic's Patrik "
cArn
" Sättermon showing what a leader is capable of.
GSL S4 Finals
:
- Preview and predictions of the S4 Grand Finals between
MVP
and
MarineKing
, the first GSL Terran champion.
- Recap of the Ro4 and Ro8 -
IdrA
&
Jinro
foreigner losses,
NaDa
gets swept,
NesTea
the last Zerg hope goes down.
- What four foreigners should go to Code A for S5?
News includes
:
- Danish CS 1.6 player assault by Ukranian police at IEM, forced bribery with police (
http://www.hltv.org/news/6068-ze-assaulted-by-ukrainian-police
)
- Controversy hits Quake Live in Cooller/strenx semifinal with lag issues 2 minutes in the fifth map, the power cutting out, and now an infamous 27-second replay. (
http://www.esfiworld.com/ql/match/2011-01-23-strenx-vs-cooller
)
- Grubby rumored to leave EG for Chinese team to play WC3 in China instead of SC2 (
http://www.tatazu.com/index.php?action-viewnews-itemid-16062
)
- ESEA Founder Craig Levine confirms SC2 finals for it's inaugural season will be held online, not at their Dallas LAN (
http://vvvgaming.podbean.com/2011/01/20/losers-bracket-round-51/
)
Show starts at 7 PM EST/01:00 CET and can be seen live at
http://www.djWHEAT.tv/live.php
Edited by Slasher at 16:58 CST, 26 January 2011 - 33602 Hits