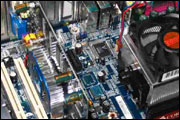 Hi Guys!
I'm thinking about buying the Microsoft IntelliMouse Optical Mouse. At the moment i use the SteelSeries Xai. Just wondered if it's useful or good to switch to the MS Mouse or to stick to the Xai for good.
Maybe you guys can help me out. Or someone's got a better idea which mouse to buy.
(Notice: for gaming i'm using the mouse left-handed!)
TIA!
13404 Hits